Welcome to AzGardens.com Black Friday Cyber Monday Bonus Deals!
Our BIGGEST Aquatic Sale of the Year!
Starts:

Thurs Nov 28


Ends Tonight 11:59pm:

Mon Dec 2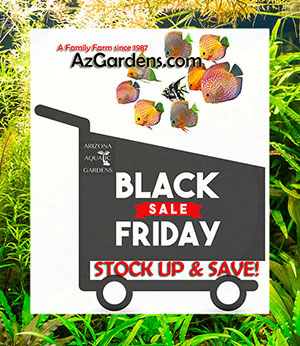 Our family's farm offers Black Friday Cyber Monday Bonus Buys on Tropical Fish, Pond Fish, Shrimp, Snails, Lobsters, Aquatic Plants& Supples! The deals are happening now!
Build your aquatic masterpiece, stock up and dive in!
Early Birds get FREE GOODIES! (while supplies last only)     If you previously signed up for our email newsletter, we already sent you an email about money-saving offers & info about our sales! If you haven't yet, no problem! Let's do it right now, it only takes a sec! Click this Newsletter sign-up link
Arizona Aquatic Gardens is celebrating 32 years in business this Nov 1. (est. 1987) Our family's farm would like to THANK YOU for your continued trust, loyalty & support! From all of us at Arizona Aquatic Nurseries, Here's to Wishing you a Happy Thanksgiving and fun filled Black Friday Cyber Monday!  ♥
The minimum allowed quantity for Crab - Mini Algae Eating Fiddler Crab is 3 (you currently have 0 in your cart).
Showing 1–9 of 94 results